The Granatelli name, an icon for more than 70 years in the performance automotive world, and Micro-Tech Automotive Industries, a basic automotive electronics manufacturer for almost 30 years, has joined in partnership to introduce the following industry first performance and fuel saving ignition products using 21st Century "Hybrid" technology!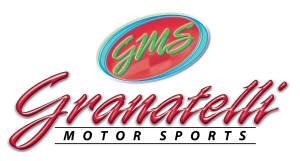 Coil on plug connector kits
Coil on plug coil packs
Ø ohm, solid core, OBD-II compatible Performance Wire Sets
Ø ohm, solid core, OBD-II compatible MPG Plus Wire Sets
T hese new products will significantly increase your vehicle's horsepower, torque, and fuel mileage. They also feature "0" Ohm resistance that allows full coil power to reach the spark plug as well are OBD-II safe and emits no stereo noise. These products are guaranteed to increase your fuel mileage up to 15% or guaranteed refund!!

JR Granatelli, President/Granatelli Motor Sports

Martin Doll, President / Micro-Tech Automotive Industries




Granatelli Ignition Wire Set


· PERFORMANCE WIRE SETS

· PERFORMANCE IGNITION KITS

· PERFORMANCE COIL ON PLUG CONNECTOR KITS

· PERFORMANCE COIL PACKS
· INCREASES MPG UP TO 15%
· INCREASES H.P. / TORQUE
· FASTER ENGINE START UP
· SMOOTHER RUNNING ENGINE
· "0" OHM RESISTANCE
· RFi/EMi PROTECTION
· NO STEREO NOISE
· OBD-II SAFE

|
|
|
|
|
|
|
|
|
|
|
|
|
|
|
|
|
|
|
|
|